The Datto SMB Cybersecurity Survey for MSPs Report has been released, and it is packed with crucial information for MSPs to help them grow their sales and learn more about their clients' pain points. The survey was created from a subset of data collected in a survey of 2,913 IT decision-makers conducted in July and August 2022. Respondents were required to be an IT decision-maker at an SMB with 10–300 employees. The markets chosen for analysis were North America (U.S. and Canada), the U.K., Germany, Australia and New Zealand, the Netherlands and Singapore. These seven key takeaways give MSPs a look into the minds of SMB cybersecurity decision-makers.
5 Key Takeaways from the Datto SMB Cybersecurity for SMBs Report
Businesses are getting the message that cybersecurity is critical to their success loud and clear, and they're acting accordingly, creating a world of opportunity for MSPs. These are seven of the most notable data points in our report for MSPs.
1. IT decision-makers are in a buying mood.
Businesses are very concerned about security and ready to make investments to keep their organizations safe. SMBs continue to experience significant security challenges and they recognize that they need to spend to solve them, with about half of our survey respondents planning to spend on email security, backup and antivirus protection.
What security solutions are SMBs planning to invest in in the next 12 months?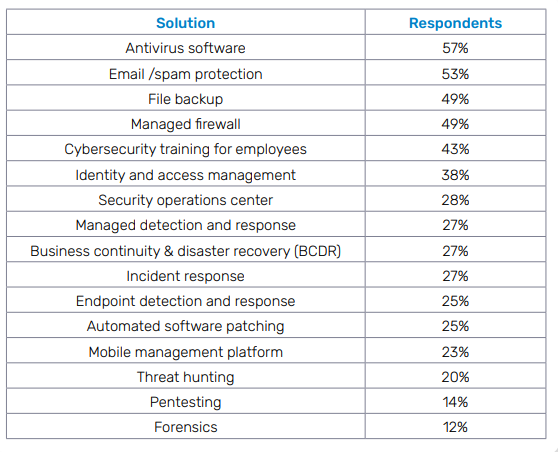 2. Security is front and center on most SMB priority lists.
High-profile cyberattacks and strict data privacy laws have increased the importance of security for businesses. Few SMBs are cutting back on security spending, instead, they're investing in security. Four in 10 of our survey respondents said that their organization is increasing their cybersecurity spending, and most expect that to continue – excellent news for MSPs in today's challenging economy.
Are SMBs increasing or decreasing security spending?

3. Phishing is the biggest security woe that SMBs face.
Business IT leaders are worried about phishing and the danger it brings in its wake. Malicious advertisements are also troubling businesses. It's also interesting to note the prominence of poor security practices and lack of training on this list. Security awareness training is a powerful and affordable tool for any business to use to mitigate security risk, yet far too many businesses aren't getting the full benefit by running haphazard or infrequent training. This list does contain a spot of good news for MSPs: there are revenue growth possibilities for MSPs around email security and security training with phishing simulations.
What do SMBs see as their biggest security challenges?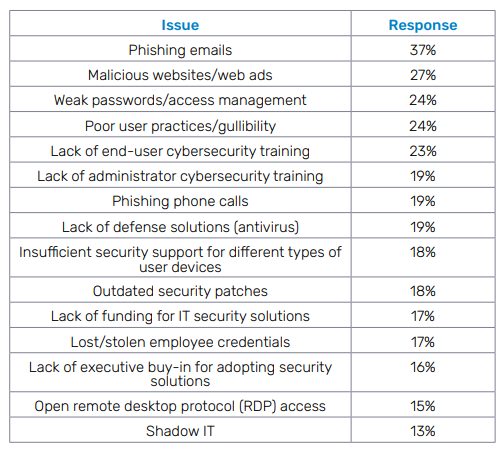 4. Downtime is costly, but many businesses don't have the right tools in place to minimize it.
MSPs have a golden opportunity to expand revenue and help their customers reduce expensive downtime with solutions like BCDR, managed SOC and incident response planning. Just under half of survey respondents (49%) said that their organizations relied on manual backup to recover data in their last cybersecurity incident. That means that half of the businesses we surveyed need to update to cloud backup and learn the benefits of BCDR — a big opportunity score for MSPs.
What are the most common methods used to recover data in the event of an incident?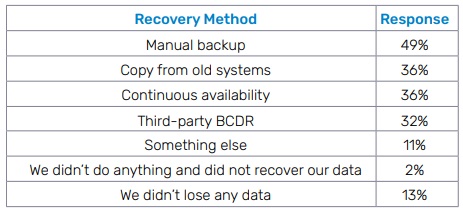 5. Many SMBs need outside help to handle security.
More than half of our survey respondents admitted that a successful phishing attack or even worse, a ransomware attack, would seriously wound their organization with some saying that it could be a fatal blow. Many SMBs have that expectation because they're not prepared to handle the fallout from a cyberattack. The cybersecurity skills shortage is only compounding their problems. That's a big reason why a significant number of SMBs tend to rely on outsourced IT security. Businesses will continue to require expert help to maintain and enhance their security, and almost half of the IT professionals that we surveyed said that their organization relies on an MSP or MSSP to get the job done.
How do SMBs manage their security?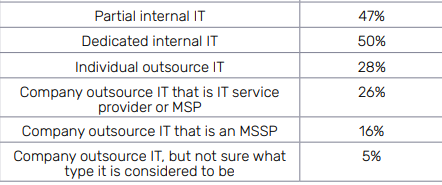 Learn more about the mindset, motivation and challenges of SMB security decision-makers by reading the Datto SMB Cybersecurity for SMBs Report, available now.
Source: Datto